New Staff Member Benefits Students and Salon Clients
Published on: 11/08/2015 (12:15PM)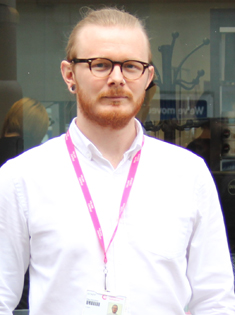 A hairdressing industry professional has joined Central College's team at Salon Central on Wheeler Gate in the new role of Commercial Coordinator. This has allowed the salon to open over the summer and on Saturdays and to develop the commercial aspect of the hair and beauty salon.
Dale Hazeldine has many years' experience in the hairdressing industry in Nottingham and in London, working with big named brands including AVEDA, Wella and L'Oreal. Dale's role is to develop the commercial activity of Salon Central. The College has been shortlisted for a national hairdressing award for innovation in its training salon and the post was created as the next step in in its commercial development plan.
Dale said:
"This is a fantastic opportunity for our students. Newly-qualified hairdressers from full-time college courses sometimes find it hard in the job market due to competition from hairdressers with more experience. Usually, this is due to a limited amount of customer-facing salon experience. My role at Salon Central is to develop our students into professional stylists, give them experience in a real salon environment and equip them to go into jobs in the future."
Alison Asbury, Central's Head of School responsible for Hair and Beauty said:
"This new post is allowing our recently qualified students to work in the industry doing hairdressing, beauty therapy and nail services in the salon. The appointment will mean we can offer even more hair and beauty services for Nottingham customers at very reasonable prices."
Dale's appointment is also allowing the salon to offer a premium service as he is available to style clients' hair.
College training salons traditionally close for six weeks or more over the summer break, but this venture means college-leavers can get up to speed with industry under the guidance of the Commercial Coordinator and help further their careers. Local residents now also have access to more flexible opening hours.
Salon Central on Wheeler Gate in Nottingham City Centre is now open Monday to Saturday. For more details on treatments or to book call 0115 914 6302 or drop in to the salon during opening hours for a free consultation.
For details of Hair and Beauty courses at Central call 0115 914 6414.